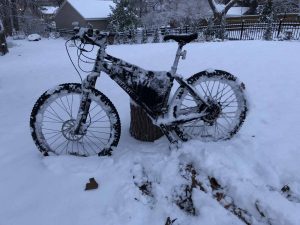 We finally have snow cover here in Minnesota. Its only 3 to 4 inches but enough to check-out how our new Defiant One mid-fat build performs. I've been riding this bike on single track, gravel, and streets for over a month now. It performs well in all situations, so far. But I really want to see how it handles in the snow. Could it be a solid all-season player? No easy task in MN!
We built the mid-fat on our Defiant One fatbike (medium) frame and swapped out the standard aluminum fork for a RockShox Bluto. (Side Note: I have had no issues with the Bluto freezing but I haven't been out in below zero temps yet this season.) We installed a Velocity Dually 27.5 32-hole wheel on the front and Alex 27.5 36-hole rim on the rear with a set of 27.5 x 3 Surly Dirt Wizard tires. We had to hunt down the 36-hole rim for the rear because our stalwart 500-watt rear hub Go SwissDrive motor is a 36 spoke system. We also used Jenson H Loop bars that I wrote about in my last post and concluded they were out-performed by FSA Metropolis for gravel. I'm now rethinking that decision; the H Loop bars are really starting to grow on me. More on that later.
We made a bunch of changes but moving from the Innova Pro LV 26" x 4" to the Surly Dirt Wizard 27.5" x 3" is likely to have the most impact on performance in snow. We lost a full inch in width, which has to reduce floatation in powder. We also dropped up to an inch in height as the fat tires can be put to 29" when fully inflated, which I'd think would impact handling off trail in snow and over dead trees and brush.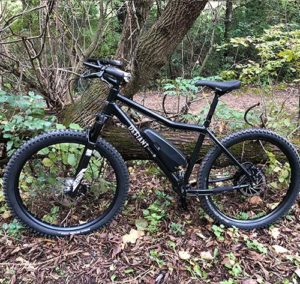 When we decided to build the mid-fat on the Defiant One frame, I thought it might look odd with the thinner tires leaving a bunch of dead space in the front and rear that is usually filled with the bulk of the fat-tire. Not the case. It's barely noticeable unless you're looking for it. We also included the custom Defiant/Cedearo frame bag and have an upgraded 15.5 am BMZ battery tucked inside.
For my first outing in a good covering of snow on our mid-fat build I set psi at about 15 and headed out. I kept my power assist mostly level to 1 but did kick-up it to 2 occasionally for a little extra fun. I was impressed. The mid-fat performed better than I'd expect.
It navigated packed trails easily with better handling and quicker response than that fatbike; this is what I expected. It did not slip out or slide at all. This surprised me. I thought this bike's weakness as compared to the fatty would be decrease of traction particularly in the corners, but it just didn't slip even in tight turns at speed. I definitely wasn't as confident as when riding a full fat with studs but that might be my issue. In the fresh powder, the mid-fat definitely didn't have the same floatation as the 4-inch tires, but I still felt the float and it was super smooth in untracked powder.
Based on this test, our mid-fat build can handle the light snow although it's not quite as enjoyable as a full fat in the powder. I plan to do more mid-fat rides this winter as the snow gets deeper and hopefully will get a chance to ride in MN deep powder.  Get out and ride.
PS:
I wished I'd have installed the Go SwissDrive 500-watt 45kh motor that would give the bike up to about 28 mph of assist. Maybe next time.
PSS:
I rode again yesterday. The snow is about a week old and very well packed. So packed that in some spots it borders on icy. I also tested performance with higher assist levels going up to 5 for short spurts. On the super slick sections of the trials there was slippage particularly in assist levels above 2. Sharp corners and going over logs in higher assist levels almost always came with spin out. I could likely fix this, at least a bit, with lower psi. Overall performance level was still outstanding at power assist 1 and 2. At levels 3 and above the bike performed well but required additional thought and adjustments to riding style to avoid too much slipping and spin-outs.